Are We All Ab Fab?
July 13, 2016 11:42 am | Thought provoking blogs |
It's finally here. The Ab Fab movie that we've been looking forward to since the TV sitcom first hit our screens 20 years ago is pulling crowds into cinemas; and a hilarious romp around the world of celebrity PR nonsense it is too.
It's also prompted the ubiquitous question for those of us who work in PR – are you a Patsy or an Eddie? For most of us the answer is neither: the real world job of a PR professional doesn't leave time for lashings of 'Bolly', celebrity shindigs or madcap adventures. Generally, we're at our desks delivering strategically focused and results-oriented PR programmes for our clients.
As a Construction PR agency, we're lucky if our day includes a mug of builder's tea, a flick through some trade magazines and five minutes to grab a sandwich at lunch time at Clare PR. On a good day we might even treat ourselves to a yoghurt.
Indeed, it's only by being served up with lashings of irony and self-parody that Ab Fab avoids being insulting to PRs and to the whole PR profession. The comedy plays on the fact that many people don't really know what PR is and, sadly, this is even true of some who work in the industry!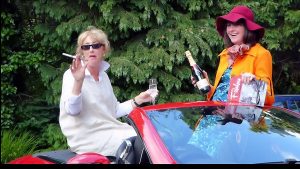 Far from being a social whirl of celebrities, air kisses and vodka cocktails, PR is a profession that requires significant knowledge across a wide range of sectors, considerable commercial awareness and a varied skill set that includes writing, negotiation and strategic thinking. Ours is a consultancy role that demands an in depth understanding of a client's business and their markets, an equally incisive knowledge of the media (traditional and social) and the kind of flexibility, pragmatism and determination that will enable our clients to achieve share of voice in an increasingly content-heavy world.
We love Ab Fab. We'd like to think that we are absolutely fabulous, but don't be fooled by the high heels and the lipstick; the PR profession is just as seriously commercially valuable as it is able to play along with the comedy cliché.