TIME TO GET THE NORTHERN POWERHOUSE BACK ON THE ROAD
January 18, 2018 3:57 pm | Thought provoking blogs |
There's nothing like the combination of dark nights (and mornings) bad weather and traffic congestion to highlight the fact that our roads are getting busier and busier.  And the situation isn't any better on the trains, with crowded commuter wagons and frequent delays. Not only does all of this add up to miserable journeys – whichever route you take – it is also stifling business and taking hours of potentially productive time out of the working week for thousands of companies, so it's an issue in need of some urgent action.

The concept of the #NorthernPowerhouse was born from this issue. The vision was for a connected network of northern cities that could work together to attract businesses from the UK and beyond, feeding economic growth and supporting job creation. We loved the concept. The cities of the north were happy to put their partisan city loyalties behind them for the greater good of the region but, four years after it was first mooted by the former Chancellor, we have seen precious little sign of it being delivered.
Of course, there are improvements happening by stealth.  Electrification of the railway networks in the north is continuing, there have been improvements to the train stations at Manchester Victoria and Leeds and the Ordsall Chord has finally connected Manchester's Piccadilly, Victoria and Oxford Road stations, creating the potential for more train routes and services across the north.  But efforts to convert large sections of M60 and the M6 to 'smart' motorways are yet to be delivered, creating a knock on impact of increased congestion across the region.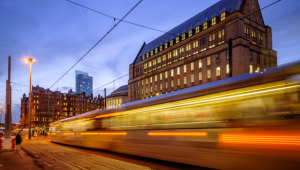 At Clare PR, we work flexibly to include home working in the mix, which minimises the fall out of congestion and lack of connectivity on the day-to-day running of the business, but that's not practical or desirable for every business.  Sometimes, there's no substitute for face to face contact, either with colleagues or customers, so creative, alternative thinking can only get us so far; we need reduced journey times to get us the rest of the way.
Our customer base is located nationally and well as internationally but sometimes that only serves to highlight the problem, as it can often take almost as long to travel the 40 or so miles to Leeds by car as it does to get the train almost 200 miles to London!
With so much talent and innovation in the north, an industrial legacy, a vibrant arts and media scene and some of the UK's leading universities, there is a compelling argument for the value of #NorthernPowerhouse infrastructure in the region to enable greater collaboration and connectivity.
The question remains when will the #NorthernPowerhouse come to fruition and how can we make it happen sooner?