SUPPORT BRENDAN ON HIS AFRICAN COAST TO COAST CHARITY FUNDRAISER
April 23, 2018 2:55 pm | Thought provoking blogs |
As a construction PR agency, we are fortunate to be able to specialise and dedicate ourselves to an industry that will always have a demand for our services. Look across any city skyline and you'll see we're a development rich nation, with firms forever competing to design the 'next big thing'.
When the media reflects on the latest 'slump' in construction output, we often find ourselves considering less fortunate countries that aren't so privileged to readily provide their people with the fundamental buildings to facilitate just basic human needs, and that is why the imminent challenge of my friend, Brendan Rendall, is so close to my heart.
On 1st June, Brendan will be embarking on a coast to coast run, setting off from Namibia and passing through Zambia, Malawi and finally finishing on the coast of Mozambique. In order to complete the 4000km challenge, he will have to run continuously over a three-month period averaging between 40 and 60k a day!
The event is in aid of the Lancashire-based charity 'Friends of Mulanje Orphans' who run a network of outreach centres and a secondary school in Malawi. All the proceeds of Brendan's charity run will allow the construction of hostel accommodation for orphans at the FOMO secondary school in Mulanje. The accommodation will give some of the most vulnerable orphans a home while they are at school.
But that's not the hard part. In order for Brendan and his fellow team to even begin this challenge, they are desperately seeking £12-£15k (through tiered corporate sponsorship packages and donations) in order to purchase a suitable vehicle that can support Brendan on his run. After the event the vehicle will be gifted to FOMO to distribute food, clothing and much needed aid to the charity's outreach centres.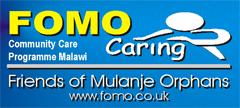 If you think you could help Brendan in any way please find out more details by visiting http://brendanrendall.com/running-africa-2018/
Alternatively, you can head straight over to Brendan's page to make a donation. Cheques are also welcome and can be made payable to FOMO.