IS A TIDY MIND THE KEY TO BUSINESS SUCCESS?
August 20, 2018 9:31 am | Thought provoking blogs |
There's no denying it: Britain's homes are shrinking. The average British house size is the lowest it's been in 90 years but at the same time the nation's spending has increased. So what are we left with? Houses that are bursting at the seams.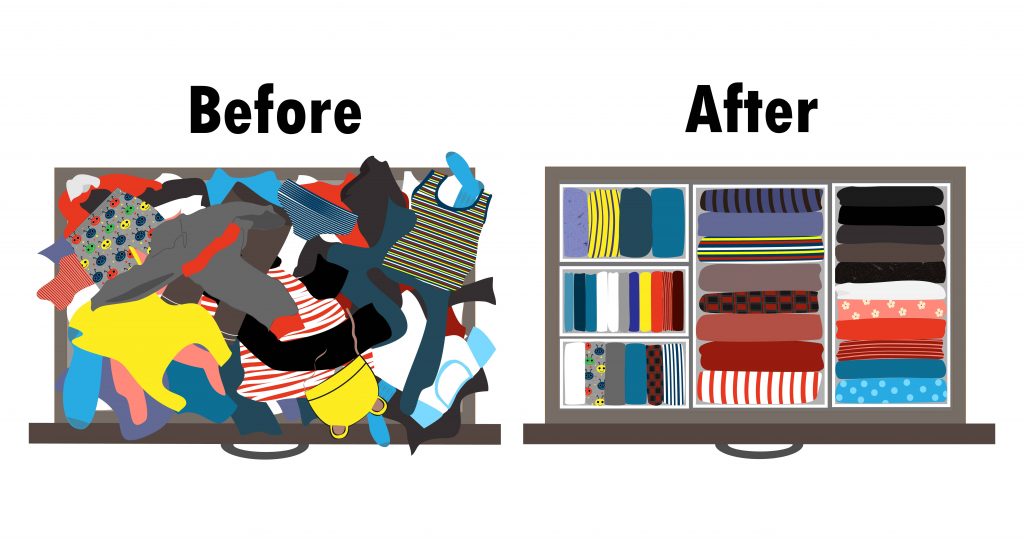 Cue the rise of professional 'declutterers'. Across the world, specialists are taking tidying to the extreme with blogs, vlogs, books and seminars on quite radical, yet life-changing, methods that equip us with ways to clean up our act when it comes to removing the unwanted items in our lives.
One notable figurehead is Marie Kondo, a Japanese tidying guru, who has made a fortune teaching people the art of tidying. Her brand KonMari (https://konmari.com/)  also the name of her tidying technique – gained instant recognition when she was first thrust into the public eye in 2014 and stands apart from the rest with her unique approach, whereby instead of focusing on what to get rid of, she encourages her followers to keep the possessions that "spark joy".
Her devotees, or Konverts – as they're referred to in a recent interview with The Daily Telegraph (https://www.telegraph.co.uk/women/life/meet-extreme-marie-kondo-konverts-decluttering-sock-drawers/) claim to "experience unexpected episodes of good fortune which they ascribe to her".
It was whilst reading this article, and learning of the imminent release of Kondo's third book 'The Career-Changing Magic of Tidying Up', that I realised many of the rituals and habits found in this almost religious ceremony can be applied to the success of businesses.
Not only must a business appreciate and regularly evaluate the value of its assets or 'possessions' in the context of KonMarie's approach – but leaders driving their companies forward should always strive for order if it is to survive.
Here at Clare PR, I can attest and relate to the theory that tidy minds encourages tidy work which in turn produces great results. We may have several plates spinning at times (what company doesn't?) but behind the scenes our clients' work is delivered, systems are up to date and deadlines are met.
I speak for the team when I say that we are far from OCD, but being organised is integral to the success of what we do. While it's safe to say you won't find me folding my socks any time soon, what you will see is us meeting all the needs and expectations of our clients – and that, for me, is what sparks joy.