IT'S NOT ALWAYS THE GLITTER THAT GLISTENS!
20th December 2018
This year's Strictly Come Dancing final, where the underdog lifted the trophy and the judges' favourites went home empty-handed, has a rhinestone-encrusted Christmas message all of its own.
As Strictly contestants past and present will attest, the dog-eat-dog approach to being the best doesn't always win the prize; sometimes it's the human face of putting your heart and soul into the task that pays dividends.
When Stacey Dooley lifted the Glitterball trophy in the Strictly Come Dancing final, she caused controversy. She had not begun the competition as the most talented dancer but it was her enthusiasm, willingness to learn and clear improvement week after week that endeared her to the nation's hearts and, ultimately, made her a winner. And deservedly so, because she demonstrated just how far hard work can go in transforming basic competency into genuine talent.
The sad thing is, away from all the glitter and the glam, that mindset of getting stuck in and working hard to achieve your goals, even when they are seemingly out of reach, is rare. In an age when everything is accessible and disposable, 'doing enough' is too often seen as a viable alternative to going the extra mile. Settling for 'OK', or even 'just good', is not in our vocabulary. For us, everything we do has to be 100% every time, because we're passionate about what we do and we never switch off from looking for new ways to add value for clients.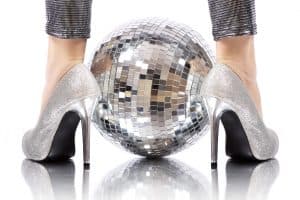 Next year will mark 30 years in business for Clare PR, which is a lot of experience under our belt.  Those years of experience have taught us many things, including the importance of engaging with people on a personal level and the fact that loving what you do makes you better at it. It's also taught us to be agile and flexible, which is why we've added social media, online content and SEO to our range of services.
We can't all light up the dancefloor or raise the Glitterball trophy – though some of us would jump at the chance! – but we can all be the person that approaches every day and every task with fresh enthusiasm and inspires those around us to do the same.