Can it Really be 14 Years Since I Began Copywriting for Construction PR Clients at Clare Comms?
19th March 2020
By Colette Curry, account director, Clare PR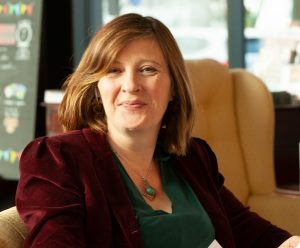 How do you sum up 14 years of no-two-days-the-same construction marketing, client liaison and copywriting at Clare PR in just a few paragraphs? Even for a writer with twenty-something (lets not count exactly how many!) years' experience of writing everything and anything - from tweets to technical articles and from LinkedIn updates to press releases - it's not easy.
The first thing to say though is that it's not all been about construction marketing, PR and copywriting. Quite a lot of what's been memorable over the past 20 years is the fun we've had, the things we've learned and the way we've pulled together as a team to find a way round every challenge and share enthusiasm for every brief.
If there's one thing that defines my 14 years at Clare PR it's the shared passion we have for what we do and for getting results for clients, coupled with a shared sense of humour across the team and a determination to have a few laughs along the way. My job is not just copywriting; it's loving construction; from the big, exciting projects through to the minutiae of building products. I am a construction nerd and I'm completely proud of it.
Peas in a Pod
To be honest, my construction experience pre-dates my time at Clare PR. I had already delivered PR campaigns for various national construction contractors, building products companies and developer clients, which is one of the reasons why Clare appointed  me in the first place.
Initially she needed someone who could help with copywriting and knew about construction. Very quickly, it was clear that we both had the same philosophy about PR: there is always a story, you just have to find it and tell it well.
It was also evident from the outset that we both had the same work ethic and the same drive for getting results, which can sometimes lead to random pictures and news stories WhatsApped at weekends. We also share the same kid-in-a-sweetie-shop excitement when our PR, copywriting and construction marketing services make a difference to our clients' businesses. It's not just about word counts and headlines for us; it's about helping clients achieve their commercial goals. But when our story appears, either online or in print, we do share a collective woohoo!
From copywriting to whatever's thrown my way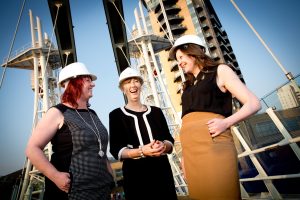 Since those early days, my remit has evolved. I'm still in the hot seat when it comes to copywriting, which sometimes means multiple telephone interviews and digesting technical information. Sometimes it means creating something on a shoe-string brief too, with only Google and my experience of construction marketing to pull together a first draft. It's not unusual for me to, in the middle of writing one article,  when someone returns my call  about a completely different project and I have to switch gear in a heart beat.Multi-tasking is all part of the job description. Luckily, there's always a pot of coffee on the go at Clare PR for when I draw breath.
The team works because my copywriting remit (and other skills including a sounding board, researcher, sense checker, creative springboard, co-presenter and partner in crime – or, in other words, as Clare refers to me as Jack and Master of all trades!),     is just part of being on the same page as Clare PR's hive mind. Our skills and personalities complement each other, supported by a culture of admiration and respect of what everyone on the team brings to the table. Indeed, sometimes, our intuitive instincts work a little too well, like the time we turned up to an exhibition wearing virtually the same outfit, as though we were auditioning for girl band!
Shared tastes beyond construction marketing
Speaking of tables, beyond work, food also brings us together. Over the years we have shared recipes, recommended places to eat out and consoled each other over the power of crisps to ruin the best of intentions.
There has been cake, apples from the tree in the garden, mince pies at Christmas (courtesy of Mr Ward) and the odd drop or two of wine at the Christmas meal. Invariably on team evenings out the waiter is bombarded by nonsensical chit-chat while we fail to make up our minds and raise a toast to another year of construction marketing success.
Can you believe she made me do that?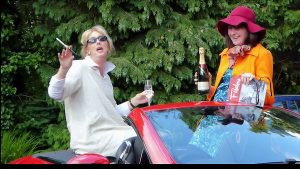 One of the things I've learned over the years is that Clare is not easily embarrassed. The tale that springs to mind is the incident of the Ab Fab parody video. It was an idea I blurted out – I can't remember why! – that we should pose as Patsy and Edina. Clare embraced the idea with both hands and embellished it with swathes of enthusiasm. Before I knew it I was in full fancy dress, standing in the back of an open top car while Clare waved her arms around in full 'luvvie,dahrling' Patsy style. The video is still floating around on You Tube…it is cringeworthily hilarious.
Whatever Next?
Clare often says that the business is also her hobby. She show no signs of taking her foot off the gas and the 'R' word is never uttered.
As for me, I will be copywriting till my fingers are too frail for the keyboard. The brilliant thing about working in construction marketing is that there is always so much to learn. So between exercising my brain and indulging my curiosity for clients, while exercising my funny bone and indulging my sweet tooth with Clare, why would I want to do anything else?